After a large poultry based Thanksgiving meal, I felt like eating something lighter but still filling. When I lived in Italy, my roommate Janet introduced me to a new dish. My mother never made tuna casserole because tuna was just meant for sandwiches according to her sense of taste and cultural custom. But Janet showed me how really good quality tuna can be transformed into something unexpected and absolutely delicious. Introducing Pasta al Tonno a classic dish made in homes all over Italy. I don't recall ever seeing it on a restaurant menu as it considered cucina casalinga (home cooking) and it should definitely be added to your go-to list of quick meals. This sauce only has six ingredients so it's easy to make without a shopping list. In my freezer I keep one cup packages of marinara sauce which frees me from frantic trips to the store and it tastes great over brown rice too.

The key to this dish is to use high-quality tuna, preferably Italian, packed in olive oil. The classic dish doesn't have olives or feta cheese but I adore those flavors so my version includes them. It's a bit of a Greek spin on the dish. You can choose either the classic or my intensified version. Adding diced zucchini meant I wouldn't have to cook a vegetable and brown rice pasta gave me a bit of relief from gluten. Yes, there are times when even professional chefs are a bit lazy!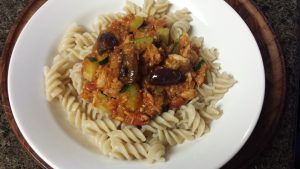 Pasta al Tonno con olive e zucchine
5.5 oz can of drained Italian tuna in olive oil
1 tablespoon olive oil
½ cup small diced yellow onion
2/3 cup small diced zucchini
3 cloves garlic crushed (chopped very fine if you don't have a press)
1 cup tomato marinara sauce
6 Kalamata olives sliced in half
Fresh black pepper and salt to taste
2 cups of cooked pasta of your choice (reserve 1/2 cup of pasta water after draining) or cooked brown rice
Feta cheese for garnish
Place a medium size skillet on a medium flame and add olive oil. Add onions with a pinch of salt and sauté for about five minutes. Add zucchini and cook until slightly brown then add garlic and stir for about a minute. Add the tomato sauce and bring to a simmer. Remove the pan from the heat then add tuna, olives, and black pepper. Stir with a fork to combine and add some of the reserved pasta water if you prefer a thin sauce. Taste and add salt if needed. Serve over pasta or brown rice and garnish with feta cheese.
Makes 2 servings
Chef's tip: removing the pan from the heat before adding tuna and olives will intensify their flavors and using a fork to combine will keep the tuna in lumps and not shreds.