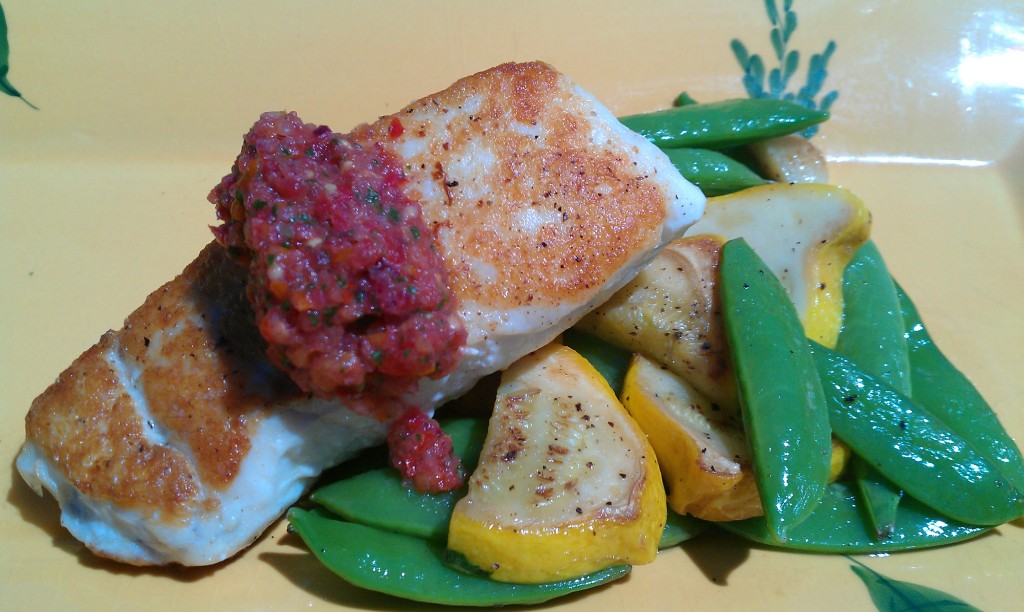 My pants are tight. I've just returned from a week in Flordia visiting family and eating enough food to induce a daily coma. I'm not talking ordinary food, I'm talking about food from my mother's homeland, Guyana. Outstanding food! I'll have a major food announcement next week but this week I'm going to relieve some stress on my waistband and eat, "light and healthy". Buzzwords that make most chef's cringe but nonetheless a necessary strategy when one can't fit into one's pants.
I'm still talking about tomatoes from my local farmer's market. I saw vibrant yellow and red baby tomatoes and asked for a taste. Pow! That tomato was candy-like and juicy. First I bought one pound then returned for another one. Initially, I planned on eating them raw but decided to make a fresh, savory salsa to use this week. It's good for about three days so make small batches.
This salsa has a few more ingredients than most but the savory flavor makes it versatile enough to use on poultry, seafood, or pork. However, if your tomatoes aren't sweet, I recommend using another recipe because natural sweetness is important here. Generally, salsas don't include spices but this one does. Spices add flavor complexity but don't use too much. You should be able to taste everything in the salsa. The side dish featured here is carmelized squash and snap peas. Don't miss the Chef's tips at the botton of the recipe.
Seared Halibut with Savory Fresh Tomato Salsa
2 five ounce pieces of halibut skinned (I used local, wild California halibut)
2 teaspoons canola oil or extra virgin olive oil
Sea salt & pepper to taste
Preheat the the oven to 400 degrees. Heat a saute pan with oil over medium high heat. Season both side of fish with salt and pepper. Swirl the oil so that the section you're placing the fish in is covered with oil. Place the fish in the pan and don't touch it. You'll see the cooked side gradually increasing in opaque color. Make sure you wait until you see a nice brown colour around the edge of the fish before you turn it. If it's browning too fast, reduce the heat but only a little. The fish needs to be brown! This takes 3-4 minutes.
Turn the fish and repeat the same process but cook this side for 2 minutes. When the second side is brown, put the pan in the oven uncovered on the middle shelf and roast for about 5-8 minutes depending upon the thickness of your fish. Remove from oven and serve with savory salsa and sautéed vegetables.
Chef's tip: if you don't want to finish your fish in the oven and choose to cook the second side over medium heat covered, you'll lose the carmelized crunch on the outside of the fish. The lid will create steam which will soften the crust but you'll still have the flavor.
Savory Fresh Tomato Salsa
1 pint or 1.5 cups of rinsed fresh baby tomatoes
1/4 to 1/2 cup coarsely chopped red onion
1/2 teaspoon sea salt
1/4 teaspoon garlic power
1/4 teaspoon ground cumin
1 teaspoon apple cider vinegar
2 teaspoons lime juice
Handful of washed cilantro with stems
Optional: half of a coarsely chopped jalapeno with seeds
Put everything in a food processor and pulse until you get your preferred consistency. Taste and add additional seasonings as preferred.
Chef's tip: this salsa works best with sweet seasonal tomatoes. To increase the flavor when using out of season or low flavor tomatoes, add tomato paste a teaspoon at at time.